With more relaxed housing laws passed in 2009, the strong growth in property over the last 3 years and the simple ability to increase your passive income from a relatively low investment – its no surprise that building a granny flat on your Northern Beaches block has become so popular.
We manage a number of granny flats on the beaches and from our experience and the owners we have put together a short list of things to consider before building that investment on your title.
The benefits of building a Granny Flat:
Income: The obvious and major benefit is being able to pull in additional income to help pay down your mortgage, buy another investment or simply have that little extra cash in your pocket. On average we lease granny flats for around $500PW, with some quality examples achieving around $650PW. Higher income is usually achieved by three factors – 1) Quality fit-out, 2) Privacy – separate entrance or fenced off to feel private, 3) Location – close to schools, beach, transport etc.
Increasing the value of your property – this one is debatable on the Northern Beaches where having a large private block is desirable and also considered a feature. However keen investors are always happy to pay a little extra knowing they can maximize rental return on a house with a granny flat on title. From investors standpoint it also spreads your income risk – even if the house is empty for a week the granny flat will provide income and vise-versa.
Extra tax depreciation – You will have additional claimable for your depreciation schedule. If you build it brand new then you will be able to claim a good amount of paper losses, which will help, offset the tax you pay each year.
Somewhere for family to stay – Whether its nesters returning home, or an elderly parent that needs to be close by. Its great to have that accommodation with some separation.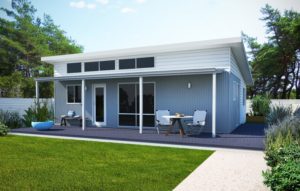 Some risks to consider when building your granny flat:
It always costs more than you planned. There are always hidden or unexpected costs when you build a new or renovate an existing structure. Find a builder you trust and ask them what costs can be fixed and what might be some possible issues that they may run into during the build. – We had one owner have an unexpected $20,000 worth of sandstone that needed to be cut out of the property to fit the structure – this shouldn't have been a surprise to the builder, but it was to the owner.
Budgeting a realistic return: So often we speak to owners that think their new granny flat will achieve $700PW rent because "Bruce down the road leased his for $600 and my flat is much nicer…" Do some solid research or chat with a local property manager to get a true understanding of what is achievable. Remember you are competing with apartments typically located closer to shops, beaches and transport than your suburban block. These are important factors that need to be considered.
The more properties, the more issues – Like any property portfolio, the more you have the higher the risk of problems. Whether it be maintenance or tenant issues – this is where it pays to have a property management specialist looking after your investment(s).
It may not rent – Another common issue we come across is owners that have built a beautiful flat, but cannot find a tenant, leaving them with a bigger mortgage to cover or no return from the cash they poured into their new investment. Here at Property North Agency we have the ability to get professional photos, listings on all the big sites as well as access to our strong tenancy database and social media pages. We are also able to properly screen and check your tenants to ensure you get the right person in your investment or sharing your home's block. Our average days on market for 2018 is 5.9days.
Liabilities – Be aware of what you are liable for as a landlord. If you do not have separately metered water, gas or electricity then you as the owner have to cover this cost – you cannot charge your tenant for usage. So ensure you have the correct sub meters in place.
You will also have to ensure your property is up to NSW rental standards. Having the correct smoke alarm, blind cord anchors, window safety locks just to name a few that could land you in hot water should someone or a child be hurt or even worse killed because the standards weren't adhered to. Get a property manager in – if you think hiring a professional is expensive, try being an amateur.
Make sure you have the correct approval – Most of today's granny flat builders know what they are doing and will even get the DA sorted for you. Just make sure you use a reputable company or go over your approval with a fine-tooth comb. The last thing you would want is council ordering you to remove a structure you heavily invested in!
Like any investment there are risks involved, but building a granny flat can be an excellent opportunity to use your current property to increase your passive income. It's not uncommon to receive a $550PW return from a $100,000 investment. I can't think of any other property investments that can offer such amazing returns on investment. Just take the above list into consideration and feel free to call Ben at Property North Agency for a no obligation appraisal or estimate pre or post build so you can budget accordingly and get a professional to manage your property and tenants.