Property North is a full service agency specializing in property management.
We offer a very simple high value property management service. Whether you have a large portfolio or single investment property we offer you the best management service on the Northern Beaches. Ensuring you the best return on your investment with the highest level of service. We are so confident we back our services with a money back guarantee. Refunding you 100% of the first 3 months of management fees if you aren't happy with our level of service. Click for more details on our
Guarantee
.
Click for your Free Rental Appraisal Or Contact Us for more information.
We try and keep things as simple as possible for hassle free management. All our clients benefit from the following services:
Click each bullet point for more details or scroll down.

Senior Property Manager:
Unlike most agencies our focus is property management – not sales. This means we appoint a senior property manager to ensure smooth professional management of your investment.
Other agencies typically put junior staff into property management before promoting to sales. These poor kids are then overloaded with upwards of 120 properties each – ensuring each owner and property cannot get the attention it deserves.

Strict Screening Process:
All tenancy applications go through a rigorous screening process to ensure we only put forward the best tenants for the landlord's final selection.
The screening process includes the most up-to-date tenancy database blacklists, financial background checks and employment checks just to list a few.

Quality Tenant Database:
As we do many openings for properties we get to meet a lot of quality tenants. We take pride in building our database with quality tenants and the type of property they are interested in. It's not uncommon for us to have a screened quality tenant ready to move straight into your property. Ensuring the minimization of untenanted periods.

Quick to Act and Tenant a property:
Being a boutique agency, and not overloading our property managers ensures we are able to promptly organize photography, listing and openings to get your property tenanted as quickly as possible with quality tenants.

6 Monthly Property Reports:
We go above and beyond when it comes to reports on your property's performance.
In conjunction with routine inspections every 6 months, we also produce an in-depth Comparative Market Analysis for your property. This report details similar properties within close proximity to yours, how they have performed on the market in both sales and rentals. Included in the report are details on the local market in general and how your property has performed and compares.

Landlord Portal:
At Property North we have heavily invested into our cloud-based property management software. With our Landlord Portal, you can log in to download financial reports, live job or maintenance updates as well as detailed photos and videos of your latest inspection. It allows you to stay up-to-date with your property and make sure everything is running the way it should be.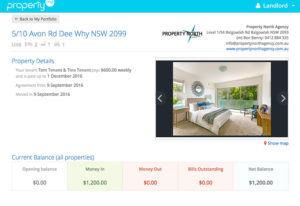 Maintenance/Renovation Plan:
A common misconception with an investment property is that you want to spend as little as possible on the property, to maximize the yield.
While our job is to ensure the best financial performance of your property there are two very strong reasons to put together a maintenance/renovation plan for your property.
Building Equity: Renovations add value to your property, and it might be worth spending $20k on a renovation to increase your properties value up to $60k or more – potentially giving you the equity needed to invest in your next property.
Ensuring that you aren't ignoring small maintenance issues that could become expensive big problems in the future.

Our broad team:
Not only do we have a gun property management team – we also work closely with associated builders, accountants and mortgage brokers. Meaning you have access to experienced professionals in all facets of property investment.