Rents in pockets of Sydney have been slashed by almost a quarter as new supply from the city's building boom continues to hit the market, new data shows.
Source: Domain – Kate Bourke Jan18 2020
Despite the falls, experts say there are signs the city's rental market is starting to stabilise.
Median unit rents across Sydney are now down $40 from their peak, after dropping 3.8 per cent over the year, according to the recently released Domain Rental Report for the December quarter 2019.
Oran Park, about 45 kilometres south-west of the city centre, recorded the biggest decline with the median unit rent in the suburb dropping 24.5 per cent, to $378 a week. It was one of six suburbs to see double-digit percentage declines for unit rents, including Glenmore Park, Rouse Hill, Barangaroo and St Marys.
Source: Domain. Note: The median weekly asking rent is basted on properties listed over the year to December.
 Largest rent falls: Units
Suburb
Median Rent
YoY Change
Oran Park
$378
-24.5%
Glenmore Park
$369
-13.2%
Rouse Hill
$470
-13.0%
Barangaroo
$1,300
-11.9%
St Marys
$300
-11.8%
Burwood Heights
$500
-10.7%
Dover Heights
$680
-9.3%
Annandale
$450
-9.1%
Hunters Hill
$500
-9.1%
South Windsor
$312
-8.9%
Domain economist Trent Wiltshire said the high volumes of new apartments hitting the market was putting downward pressure on rents – particularly in areas of high development such as the west, south west and inner east.
"The key reason for rents falling in Sydney has been the massive supply of new apartments in the inner city but also across the suburbs as well," he said.  "But that is going to start to dry up later this year and into next year."
More rental listings have become available, according to Philip Habib, head of property management at Starr Partners Penrith and Glenmore Park.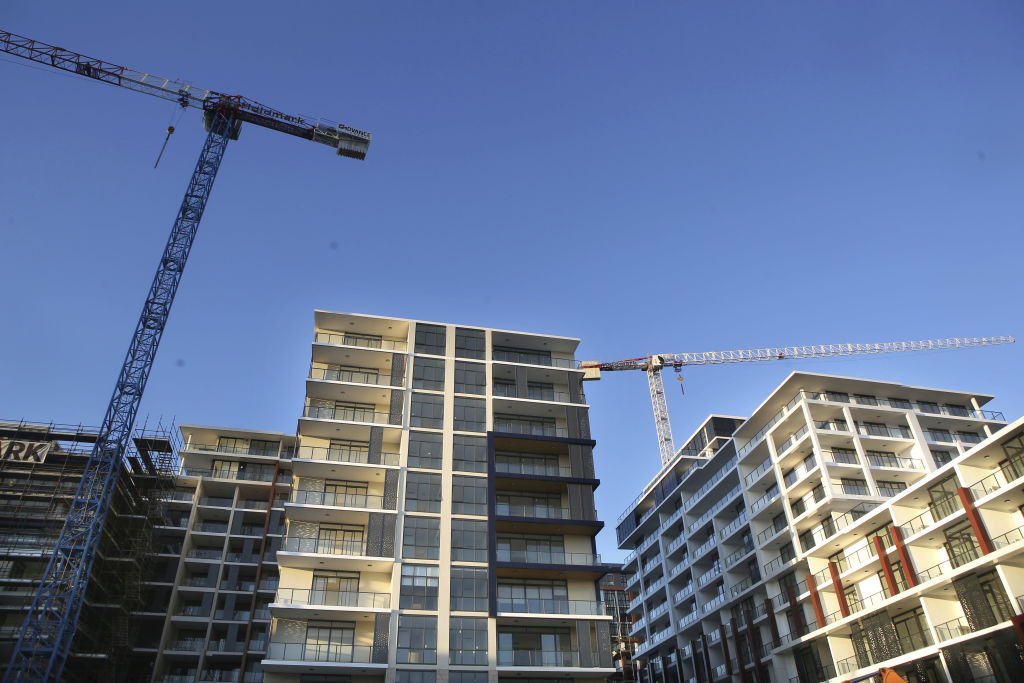 "There's been an introduction of high-rise units and we've generally seen a reduction in rents in that pocket," he said. "It's a similar story across the west."
Mr Habib said units that were originally advertised for $400 were being rented out at $360 a week, due to the influx of apartments in the past 12 to 18 months. Houses, which were only a little more expensive than new apartments in many cases, were still leasing quite well.
About 73 per cent of suburbs in the report saw unit prices fall. Medians were only calculated when a minimum of 30 properties were listed in a year.
Largest rent increases: Units
Source: Domain.
Suburb
Median Rent
YoY Change
Dundas Valley
$600
27.7%
Revesby
$650
20.4%
Padstow
$530
14.6%
Millers Point
$1,000
10.7%
Panania
$675
7.1%
North Manly
$530
7.1%
Seven Hills
$460
7.0%
Jannali
$440
6.0%
St Peters
$635
5.8%
Glebe
$550
5.8%
Dundas Valley on the upper north shore, Revesby and Padstow in Canterbury Bankstown and St Peters and Glebe in the inner west were among suburbs that bucked the trend, with unit rents rising by 5 per cent or more in a dozen suburbs.
While an influx of new units can drive rents down, Mr Wiltshire said, new supply could also push median rents up – if better quality, bigger and newer units replaced older apartments.
Andrew Fanos of First National Real Estate Newtown felt it was the newer, more expensive stock coming on the market that was pushing prices up in areas like St Peters – where the median jumped 5.8 per cent to $635.
"We're getting a steady inquiry rate … but tenants are not clambering over themselves to get a place, they've got choice," he said.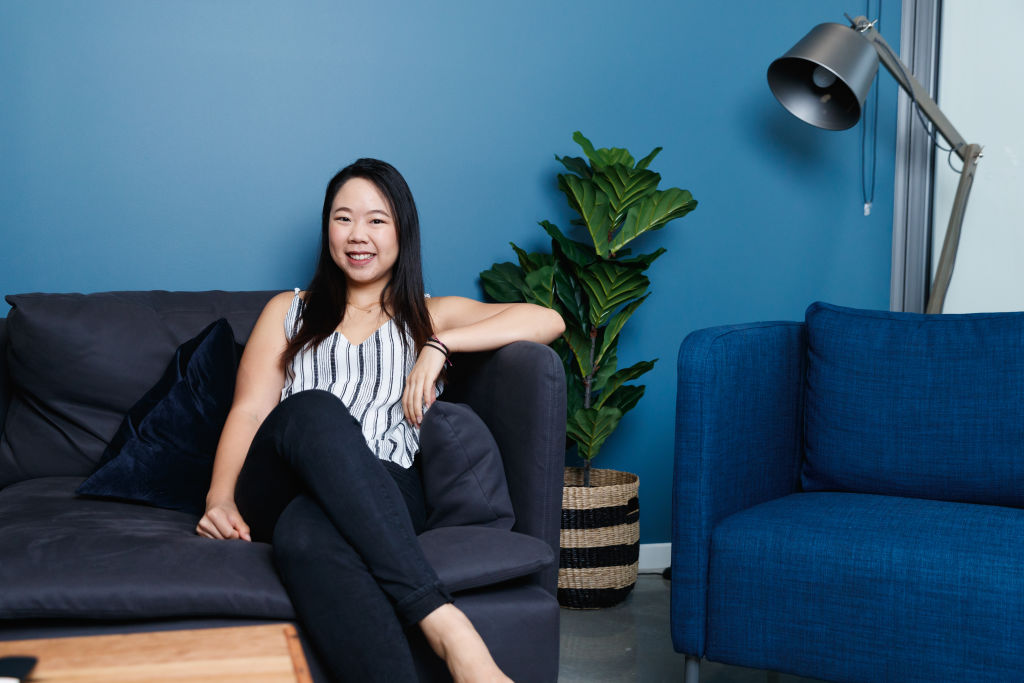 Michelle Tan is among those who've recently moved to the suburb. She's been renting a furnished apartment in a new co-living property, Hmlet St Peters, for about $460 a week since November – a similar sum to what she was previously paying in London.
"When I first came I didn't really know all the areas of Sydney, I just wanted good transport links," she said. "But I'm a big foodie, and I realised [neighbouring Newtown] has everything, so from that perspective I really enjoy it."
For houses, Greenwich rents fell most for the third quarter in a row, which has previously been attributed to the large supply of apartments across the lower north shore. Millers Point, Tamarama and Bellevue Hill were also among the 17 suburbs which saw rents drop by 10 per cent or more.
Source: Domain.
Largest rent falls Houses
Suburb
Median Rent
YoY Change
Greenwich
$913
-24.0%
Taren Point
$695
-23.8%
Beaconsfield
$870
-20.9%
Curl Curl
$990
-20.8%
Millers Point
$1,050
-19.2%
Tamarama
$1,795
-17.5%
Bellevue Hill
$2,000
-16.5%
Hunters Hill
$1,000
-14.9%
Airds
$395
-14.1%
Castlecrag
$1,038
-13.5%
At the other end of the scale, 11 suburbs saw house rental growth of more than 10 per cent. Malabar jumped most, up 20 per cent to $1200.
David Ibanez of Belle Property Randwick said interest in the suburb had changed dramatically in recent years, with more eastern suburbs renters moving there to get better value for money.
Of the eastern suburbs rental market more broadly, Mr Ibanez said it had been a strong start to the year, with rentals left over from late last year being snapped up and price rises possibly on the horizon.
"For the first time in a while I went to an open and there were already 25 people waiting on the front fence for me," he said.
Source: Domain.
Largest rent increases: Houses
Suburb
Median Rent
YoY Change
Malabar
$1,200
20.0%
Hurstville Grove
$660
17.9%
Kurrajong
$525
16.7%
Killara
$1,150
15.0%
North Curl Curl
$1,250
13.6%
Blakehurst
$770
13.2%
North Strathfield
$725
12.4%
Balmain East
$1,065
12.1%
Narrabeen
$900
11.1%
Harris Park
$500
11.0%
Independent economist Stephen Koukoulas, of Market Economics, said that in addition to high levels of supply coming onto the market, slow wage growth and the higher volumes of first-home buyers entering the market could also be keeping rents down. He expected the rental market to remain weak over the next six months.
"There is still a pipeline of apartments being completed," he said. "New supply is topping out but it is still quite a big number relative to population growth."